"Canada's Biggest Economic Challenge: Improving Workplace Learning"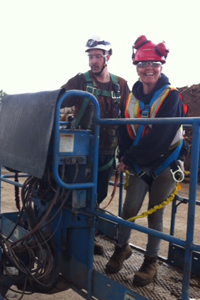 The relationship between the employer and employee has changed dramatically in the past few generations.  As a former employee who stayed with the same company until retirement (25 years), a great deal of change was seen with younger employees.  The company wanted to retain talent, so was offered training at company costs to develop related skills.  It became a competition amongst the young staff to see who could do better.   The company was seen to be investing in the individual employee, and they received a skill that was marketable to other companies.  However, they chose to stay with the employer, using their new skills, because there was increased synergy in the employer-employee relationship.
It's an envied model that we have more or less implemented at the trade level in Canada.
If the employee leaves with a higher set of skills, then they are more likely to be successful even if their employer changes.
Research shows clear economic benefits to workplace literacy, but this message has not yet reached many Canadian workplaces. There are positive returns from investment in training, although the nature of the returns may vary among employers and workers. Research shows that general training has greater effect on worker productivity than specific training.
Employer returns on workplace/essential skills programs include:
Better communication, cooperation and labour-management relations;
Workers with more ability to learn and work as a team;
More productivity;
Workers more aware of safety and able to act on that knowledge;
Less absenteeism, increased retention, workers more committed to the employer;
Workers more likely to accept and act on suggestions for personal improvement, more willing to take the initiative; and
Workers with more ability to solve problems and eager to take on new roles as mentors and peer learning coaches.
Work with us to design, develop and deliver workplace training that will keep you and your team at the top of your game. If the need is to stay current, refresh skills or find a new perspective, we can customize training content and schedule it to fit your needs, goals and budget. Investment in training builds revenue and brings returns to your company. Find out how we can help you.
Our team brings expertise, experience and commitment and successful careers in community development and entrepreneurship. From one day seminars and quick response training classes to completely customized training solutions we deliver courses in a variety of formats and delivery modes to suit the needs of your company.
Funding Opportunity
The Canada Job Grant provides businesses of all sizes and in all sectors with funding assistance to offset training costs for new or existing employees. Up to two thirds of the cost of training could be eligible for funding, with the employer required to pay the remaining one third of the training cost. Flexible arrangements are available for small businesses, who may be able to claim wages as part of their contribution. Click Here to Visit the Canada Job Grant website.
We offer a variety of Workplace Training programs including Workplace Essential Skills, Life Skills, Workplace Readiness, Industrial Manufacturing Workplace Skills, Government Programs and more. Please be sure to inquire about our different programs through our contact page.
Images from our Industrial Manufacturing Training Program Launch!